The BNWAS ("Bridge Navigational Watch Alarm System") is a safety system that requires the officer on duty to press a button within a set time. When tired, this system prevents the officer from falling asleep.
The system is simple, the officer on duty sees a visual indication on the bridge every few minutes (depending on the settings), if there is no response within 15 seconds by pressing the button, a sound is emitted. This effect continues until an alarm is triggered in all booths. De Boer Marine supplies the BNWAS of the Marble brand.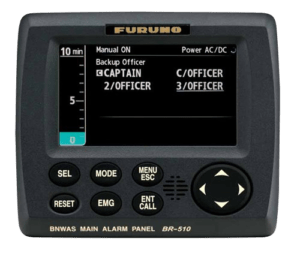 IMO requirements
The International Maritime Organization (IMO) applies requirements for the BNWAS. For example, in new construction, all passenger ships and all cargo ships from 150 GT must be equipped with a BNWAS. The system must be able to function in the following ways: -Automatic: The BNWAS is automatically activated when the ship is sailing. -Manual ON: Always on -Manual OFF: The system is completely off. De Boer Marine supplies, installs and maintains your BNWAS system!